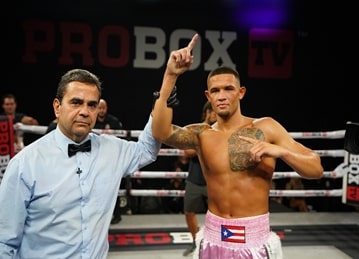 Tampa's own Marques Valle returns to ProBox TV on December 2, as the Super Welterweight prospect continues his fast tracked progression in the pro ranks, facing on paper stiff competition Luis Sanchez, live on ProBox TV.
Valle has been one of ProBox TV's mainstays since the platform's inception, featuring consistently in bouts that have been explosive, with the hard hitting Floridian only going into the second round in one of his six pro outings.
'The Machine' discussed his career so far on ProBox TV. "It's been great fighting on ProBoxTV. I couldn't ask for anything better,"

"I don't know how I got so lucky with the stablemates I got, everybody works so good here, and everyone is growing every day. We're always pushing each other to get to that elite level.

"If you're training in the garage every day by yourself, you can work hard, but it isn't the same as seeing future stars such as Najee Lopez and Darrelle Valsaint every day, striving for greatness, that's a massive part of being with this company, we have everything we need here."
Marques trains and features on ProBox TV alongside younger brother Dominic, who also holds a perfect professional record in the paid ranks.
The older and bigger of the brothers opened up about his relationship with his younger brother Dominic as well as the love he has for his Puerto Rican roots.
Marques stated, "We've always been close, but boxing brought us closer. We train together, we push each other, and we have a great relationship. We really get that extra bit of hard work from each other which is what you need to be a champion I believe.

The older Valle continued, and elaborated on his love for his Puerto Rican heritage, "Honestly, if I wasn't Puerto Rican I don't think I'd be boxing, because growing up everybody had to know how to fight, watching the fight, and it was like a holiday every time a big fight happened.

"There's been so many great Puerto Rican champions, and I want to follow in their footsteps. In 2023 I want to push into those world rankings and show everyone I'm the future of Puerto Rican and Florida boxing."
SIGN UP NOW TO PROBOX TV AT PROBOXTV.COM FOR JUST $1.99 A MONTH