The fights in between the fights are off screen, so us fans typically aren't privy to what challenges face pugilists when they aren't doing their thing in the ring. Most of you reading this saw what Kendo Castaneda did the night of May 20, at the ProBox Events Center in Plant City, Florida, on the grounds of the WhiteSands rehab facility. The one-hit quitter "Kendo Tremendo" laid on Sonny Fredrickson rattled the Ohio boxers' brain pan, and rippled in viral fashion days after the violent round one curtain drop.
All those shares and retweets of the ferocious and perfectly timed left hook, though, don't pay bills. Castaneda, and fellow Last Chancers Michael Dutchover, another Texas native, Massachusetts born Floridian Joseph Fernandez and Mexican vet Antonio Moran, went home after triumphing in the tourney opener. There, they dealt with matters that us regular folk grapple with.Taking the tournament will provide a momentum surge, one that each man hopes will pay off in a step-up fight for stepped up money. And until then, there will be regular folk problems to contend with.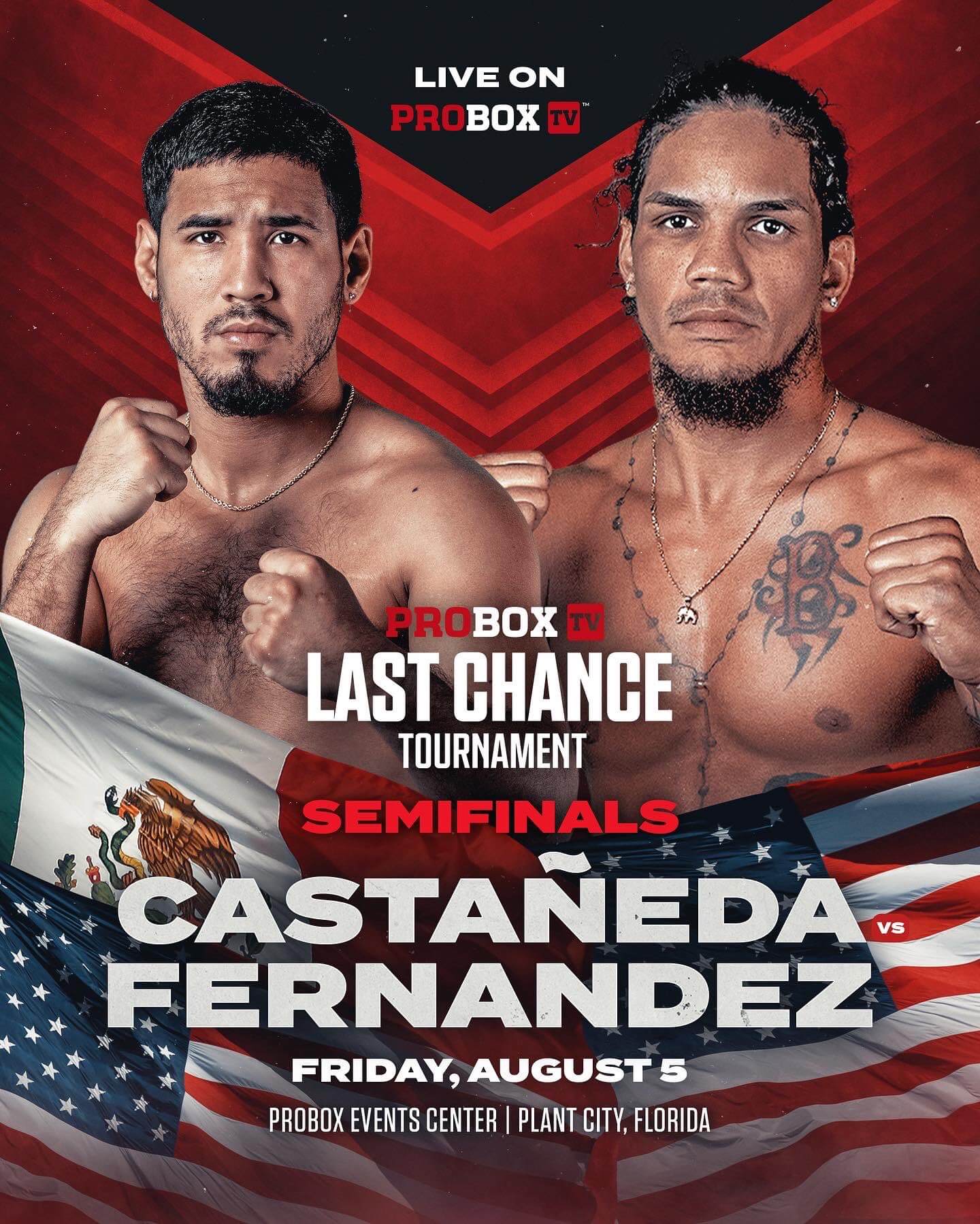 For Castaneda, who's counting down to a date with Fernandez in the event semis, unfolding on Friday, August 5th, that means putting in the hours at a Fed Ex facility in San Antonio, working a shift which kicks off at 3 am.
He doesn't see that grind as a problem, mind you.
When one is trying to fashion oneself into optimal shape, though, to give oneself the best possible chance at wearing the Last Chance crown, toiling the overnight isn't perfectly conducive to enjoying a superior camp. Ideally, body and mind get toned to peak efficacy with such stakes on the table. Life isn't in the habit of serving up ideal circumstances, however. So a Castaneda has been and will be contending with everyman (and woman) issues, like trying to minimize cravings for pizza.
"I've been staying away from the booze, I'm off the beer," the 28 year old holding a 18-5 mark told ProBox News. "I've been eating very clean, staying away from all the bulls**t. But, yeah, I love food too. I love all the bad stuff," he continued, chuckling good naturedly.
Castaneda insists to a NY pizza snob that they have good pies in his hood. But, the quirky character assures us, he knows another splashy KO, against Fernandez will place him nicely in the single elimination setup finale. "Yeah, I might just rip through this tournament, and move to 147. I'd fight any 140 pound champion, I'd fight the winner of the Jose Zepeda-Jose Ramirez fight. I'd fight Regis Prograis, or Montana Love, he's good. I'll do 140 for big fights."
He's able to think at that level because his takeout of Fredrickson had some of those former followers of his crawl back to him. Plenty of those boomerang buddies opined that he looked like a proper pitbull against Fredrickson, who came in 21-4. "People were like, 'Oh shoot, that's the Kendo I've been wanting to see!'''
Castaneda's upbeat musings are impressive, being that he came into the tourney having lost five bouts in a row. Yes, that slide would have many if not most in his position looking harder at moving up the ranks at Fed Ex. "I'm too smooth for these cats," he continues. "One punch, I'm coming like the old Keith Thurman, 'One Time.' Not an older Keith Thurman," he adds, with a parenthetical giggle.
Castaneda doesn't sound like he's dissing or dismissing Fernandez (age 30; 15-4-3 record), honest, when he gets confused about his Aug. 5 dance partner: "I didn't know I was fighting a guy named Joseph, I thought it was 'Jerome.' I don't even wanna get cocky, but he ain't gonna like it when I put paw one, and paw two on him!"
Fernandez seems like the sort who would not get ruffled if informed that his opponent thought his name was Jerome. "After the last fight, I sent straight back into working and training," he told ProBox News when asked for an update on his life since that victory (UD8) over Chinese battler, 36 year old Zhimin Wang. "I'm always looking forward. The fight against Castaneda is going to be a tough fight, truthfully I'm expecting a war. He is a durable fighter, but he's got flaws like everybody. I'm going to win this fight in the gym before I ever get into the ring on August 5. Then all I gotta do is show up and execute my game plan."
Sure, it could indeed come down to which guy said no to the siren call of a large pepperoni more emphatically.
The Mexican talent Moran (age 29; 27-5-1 record) will step to the line against Michael Dutchover (16-2 record), who bested Clarence Booth via SD8 in the opening round. "In that fight, I didn't get stuck in a fire fight," the 24 year old stated to ProBox News. "Boxed smart, was using my brains. This game is chess, not checkers. I'm bringing that momentum to another formidable opponent."
Dutchover is a humble sort, somewhat an opposite of Castaneda as far as personality goes: "I'm blessed, I'm taking advantage of every day, I'm breathing (happy to be alive)." He and his coach Danny Zamora have a saying, 'break down the tree,' and that's what he's fixing to do to Moran, he shares. The Mexican who has been in with Jose Pedraza, Devon Haney and Arnold Barboza likely could be, on paper, his stiffest test as a professional. "The West Texas Warrior" sounds confident that his hand will get raised during his semifinal rumble and yes indeed, he'd be pleased if Castaneda too got the W, leading to a Texas two-step Last Chance last dance. "I'm rooting for Kendo, hopefully we'll meet in the finals."
Dutchover, too, has been contending with those curveballs you get thrown at you in day-to-day living. His grandpa Jesus, who he calls Papi, got taken in for emergency surgery at Midland Memorial when an unchecked hernia resulted in an infection, and a blockage in his small intestine. "God creates miracles," the boxer said, "and he's a fighter, like me."
Dutchover, now back training in California, went to Texas for two weeks to stand by Papi's side. "I'd shadow box for him, it brought joy to him." Also, Michael would drive six miles with his mom to visit grandpa, and then run home, getting that roadwork in. "Priorities, the people you love in life," he explained.
For sure, skills will play a large factor in which two fighters leave ProBox Events Center on August 5 knowing they're a step closer to winning the Last Chance competition. Skills, and the ability to handle those confounding tests that test all us regular beings.
Like being able to maintain willpower instead of going into devour mode on pizza pie and pilsner. Like staying focused on compartmentalizing the worry and sadness conjured as we watch a beloved elder fend off a life-threatening ailment.
Success in the arena depends more on mentality than physicality, old timers will tell you. And that is so even more for our Last Chance crew, Castaneda, Dutchover, Fernandez and Moran. They've already experienced copious blows to their psyche and ego, which makes their choice to continue the mission that much more admirable. Expect to see next-level resilience on display fight night, propelling these good fighters to engage in great fights.