I've been asked to compare Tyson Fury-Francis Ngannou with exhibitions like Muhammad Ali-Antonio Inoki, Chuck Wepner-Andre the Giant, and the night George Foreman fought five different opponents, so I'll start by trying to put things into perspective.
Ali, Wepner and Foreman wouldn't have made anything like the money Fury is for the debacle I'm anticipating. Theirs really were exhibitions – they weren't treated seriously as competitive fights. More than anything else they were stunts.
Ali-Inoki was expected to be a boxer-wrestler-type match-up. Inoki then got on his back, and stayed on his back like he was breakdancing – kicking Ali in the knees – and I don't think anybody expected that. He was expected to try and grab Ali and to put him in a bear hug – that type of thing hadn't been seen in professional wrestling. "We've all been duped." Inoki seemed scared to take one punch from Ali, and that's the way he fought.
Wepner was far from the heavyweight champion of the world when he fought Andre the Giant. He also hadn't earned anything like Ali and Fury.
One of Foreman's opponents, Charley Polite, was a decent fighter in his own right. He wasn't a blue-chip prospect, but he could fight. He'd have beaten Ngannou. Foreman fought five legitimate boxers – his power was his equaliser.
Joe Louis would travel around and fight in exhibitions to raise money and morale. What he called his "bum-of-the-month campaign" wasn't done for his bank balance. He also travelled to different places to do it.
"Sugar" Ray Robinson travelled the world fighting opponents in their hometowns – Randy Turpin in London was one of them. Ali went to both Toronto and Vancouver to fight George Chuvalo. People who'd never had an opportunity to see them fight were getting that opportunity.
Fury has the platform, the profile, the ability and the charisma to earn that nature of reputation, too – and before I risk being accused of being partisan, I should add that I felt that Vasily Lomachenko-Anthony Crolla should have happened in Manchester, not Los Angeles, in the same way he travelled to London to fight Luke Campbell – and Oleksandr Usyk fighting Tony Bellew, Marco Huck, Mairis Breidis, Derek Chisora and Joshua in their hometowns.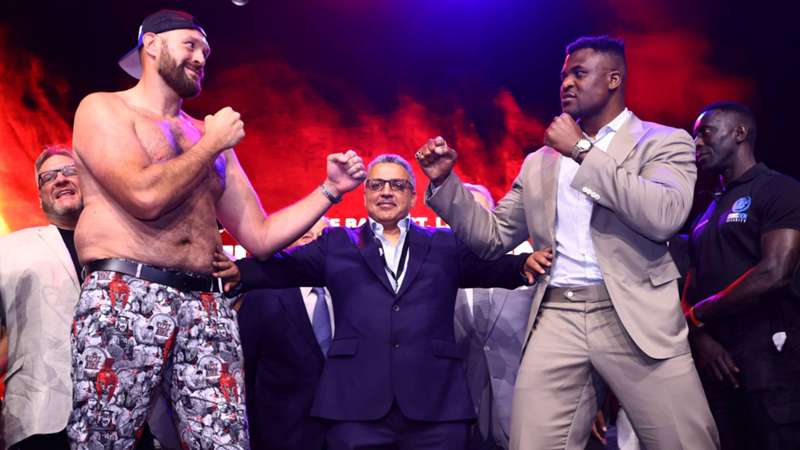 Fury might get more respect from participating again and doing something impressive in WWE than he deserves from fighting Ngannou. He'd certainly get more respect if he fought legitimate contenders in their hometowns.
Instead, he's holding the WBC heavyweight title hostage – he's not defending it – because he has the money and power to do so. It's insane that this fight's being sanctioned. A saving grace may exist in Fury finally agreeing to fight Usyk, but doesn't that also discredit him fighting Ngannou? It's like he's saying he's sparring Ngannou before fighting Usyk – and even then, there's no certainty that the fight with Usyk will happen. Ngannou could put him in a headlock and smash him to the floor – who knows?
The money involved in Fury-Ngannou is so ridiculous that it's almost vile. I almost feel bad for fighters in lighter weight classes that Fury and Ngannou can command that kind of money. Like with the debacle between Tommy Fury and KSI – 1.3 million people paid money to watch that – it showed the type of world we're living in.
Floyd Mayweather-Conor McGregor disgusted me for similar reasons. That fight shouldn't even have been sanctioned but it became a big deal, partly because it was given credibility by the media who travelled from around the world to Las Vegas to cover it. The rules were rewritten to allow them to fight in 8oz, instead of 10oz, gloves – even the commissions involved showed that they were in it for the money.
More recently Mike Tyson-Roy Jones Jnr also didn't help. Roy's a friend of mine. But after that fight Tyson even said that the reason he fought him is because Roy was the only one who accepted.
I don't have a problem with exhibitions, or with money being made from them. But hijacking the title, treating it as your property, and the rules no longer being applied to you is a problem for the sport.
Since fulfilling his obligations with Deontay Wilder, Fury's fought Dillian Whyte and Chisora. Did either of them deserve to fight for the title?
It's not just Fury, by the way – as a society we've lost touch and become too engrossed in fantasy. On most occasions the fight itself has become secondary to the show.
The show may prove impressive between Fury and Ngannou. But the fight? Fury's good enough to do what Mayweather did against McGregor – to make it look like it's competitive. I expect him to carry Ngannou if he needs to, so that afterwards he can talk about what a tough opponent Ngannou was and how Ngannou stepped up and – that line we always hear today – "dared to be great".
Russ Anber is the founder/CEO of Rival Boxing, as well as a highly respected trainer (of both pros and amateurs), a gym owner, a cut-man, an entrepreneur, a broadcaster and one of the best hand wrappers in the boxing business. Vasiliy Lomachenko, Oleksandr Usyk, Artur Beterbiev and Callum Smith are among the many top boxers Russ works with.