ProBox Promotions are set for the debut show in Atlanta, GA, with heavyweight hope Christian Thun and Atlanta's own future star Najee Lopez topping the card on November 19 at the Buckhead Fight Club.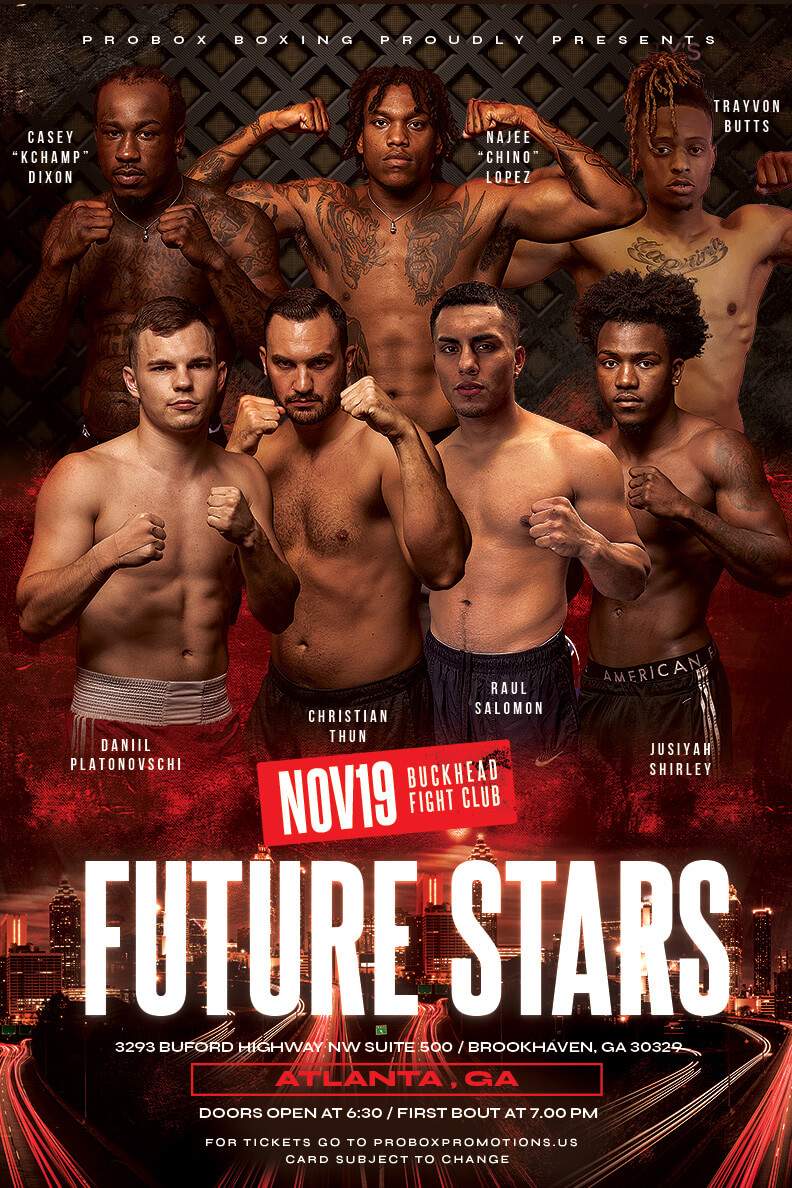 Thun returns to action after a spell on the sidelines, and the towering heavyweight, who has spent time in camp with Tyson Fury and Anthony Joshua amongst others, discussed his return to the ring.
Thun stated, "I'm very excited to be back in the ring and have my first fight with ProBox Promotions. I haven't wasted a single second of my time out of the ring and I believe that will show on November 19.
"I've spent time in Tyson Fury's camp this year and that was an amazing learning experience and I grew massively as a fighter out of spending time around the Gypsy King. Now it's my time to show off my skills and make a statement in a fighting town that's Atlanta, GA."
Joining Thun in action is the highly touted Najee Lopez, and Lopez opened up about fighting for the first time as a professional in his home city of Atlanta.
The Cruiserweight stated, "I can't wait to show off my skills in Atlanta. I know I've got a good opponent who's coming to win, but I'm going to show I'm a completely different level than anybody with my record.
"Atlanta is a fighting town, we all came up with hard situations where we had to fight. My brother Casey Dixon and I who's fighting on this card too know how it feels to have to fight through hard situations in Atlanta, we're now doing it for everybody to enjoy in professional boxing. You don't want to miss this night."
The November 19 Future Stars fight card at the Buckhead Fight Club, also features undefeated Raul Solomon, Daniil Platonovschi, hometown debutant Casey Dixon, Jusiyah Shirley, and Headley Scott.
ProBox Promotions' Director of Boxing John Beninati weighed in on the November 19 event.
Beninati said, "This is going to be a fun night of action for the Atlanta crowd with some genuine future stars on the card.
"Najee Lopez and Casey Dixon are popular in Atlanta and are two standouts that can go all the way to the top of the boxing world. So I'm excited to see them both in action.
"Christian Thun and Daniil Platonovschi were stars as amateurs internationally, and they bring unique styles I'm sure the fight fans in attendance will enjoy. Jose Miguel Borrego and Jusiyah Shirley are come forward aggressive fighters that always look for a knockout. It's going to be an entertaining night of action."
TICKETS ARE AVAILABLE NOW AT https://probox.ticketleap.com/future-stars-11-19/dates/Nov-19-2021_at_0630PM