Perspective can be a wonderful thing, despite it often coming too late. Mike 'The Rebel' Perez's (27-3-1) point of view was remarkably measured despite his turbulent start to life with a boxing career to match.
"Anybody can see the fight with Mairis Briedis, the guy just didn't want to fight me at all. The referee took a point from him for holding all the time, the referee even took a point from me. You can clearly see it's an un-intentional head-butt. I dunno, something was going on. I wish I could get that fight again somewhere neutral."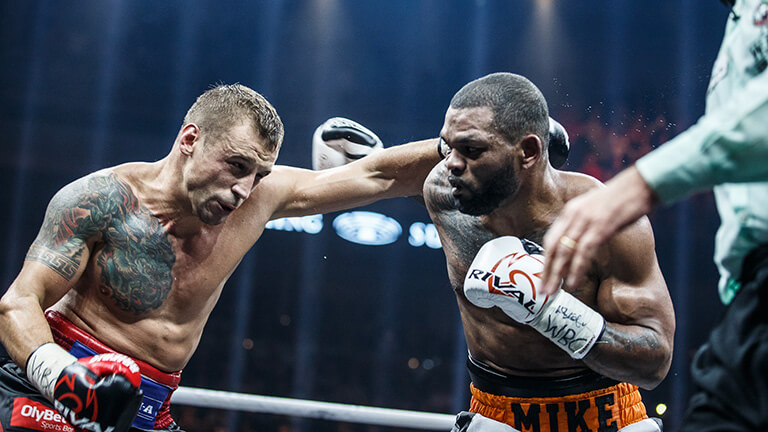 Said Mike Perez in an exclusive interview for ProBox TV when describing his loss to Mairis Briedis in the cruiserweight version of the World Boxing Super Series in 2017.
"I naturally continued watching the World Boxing Super Series after I lost and I said to my wife 'Why didn't this bitch fight me the way he's fighting Usyk' or the way he fights Dorticos or anybody else. Why did he have to keep hugging and kissing me. It is what it is. He did what he had to do to win and the referee let him."
Before cruiserweight, The Rebel was mixing it with some of the top names at heavyweight. A first round knockout defeat at the hands of Alexander Povetkin in Moscow in 2015 looks to have inspired a move down weight-class.
"It was never my plan! The Povetkin fight was a wakeup call. I'm happy it happened the way it happened. By the way! I never got paid for any of those fights, I never got paid for Briedis in Riga, never got paid for Povetkin, no money for Bryant Jennings either. The people looking after me took all the money.
"People don't even know that for the Povetkin fight I was drunk, the only reason why he knocked me out like that. The way I went down that night, you can clearly see something is wrong. People in Russia were cool though, I did get some threatening messages on Instagram, but Russian people were lovely."
Mike Perez's story could comfortably be taken from a script of an epic Hollywood movie. After staring on the amateur circuit in his native Cuba, defeating the likes of Luis Ortiz and claiming Gold in the World junior Championships, Perez endured inhumane circumstances hitching a ride off a Mexican cartel controlled vessel, eventually landing and settling in Ireland in 2008 after defecting from Cuba.
"The guys who took the money from me, they live near me. Yeah, I could go and get the money, do something bad. But my wife says 'Are you going to destroy everything you have? Let him take the money, you are always going to make more money and make another life.
"But after the Povetkin fight I was in a very bad place. I was drinking, I was an addicted to alcohol. I used to do it to deal with what happened after Magomed Abdusalamov. Luckily I said to my wife when I came back from Russia that I needed help. She cried and it's the best things that's happened to me."
Perez defeated Abdusalamov by unanimous decision, leaving his opponent with life threatening injuries that he suffers from still 9 years later.
"I was still struggling with it, I just kept drinking. I was trying to deal with the pain of what happened to Magomed. I was receiving messages saying things like 'Should you fight again if you nearly kill a man!' Lots of messages like that. I still get messages now. So since the Carlos Takam fight I was drinking every single day, I didn't even bother sparring for the Bryant Jennings fight. It's crazy my trainer could never smell the drink!"
There finally appears to be an air of composure and consistency surrounding Mike Perez, now 36 years-old, a trait that looks to have helped the Cuban work his way back into the ranking and revamp his storied career.
Under the stewardship of German based outfit Legacy Sports Management, The Rebel has graced the ring twice in Dubai and once in Germany, finding himself ranked at #7 by the WBA and #15 by the WBC.
"After all those crazy things that I happened, I had no idea what to do. I was painting houses and doing some security, I was going to get a job like everybody else and move on from boxing. Then I got talking to Karim (Akkar) running this company in Germany. All I've I said is, keep me busy and I will get another world title shot!"