It hurt when the end of Showtime Boxing was announced. I fondly remember the days of HBO and Showtime – I couldn't help but see it as another one biting the dust.
But this is the future. Things are changing. HBO and Showtime were essentially premium movie channels that hosted boxing – which was great. They brought great production values to their boxing programmes, but the nature and distribution of media is changing – which means that this development can lead to progress and evolution, instead of becoming something dying.
We live in a world of video on demand – boxing, far from being immune to that, represents the lowest hanging fruit, because it remains a niche sport. Even more mainstream sports are following a more modern model. The traditionalist in me is disappointed, but the most important thing is that boxing evolves – the UFC has done so exceptionally – which is something our sport has typically struggled with.
I fought on HBO, and made lot of friends there when they were filming 24/7 and other programmes. The end of HBO Boxing, as with Showtime, came with a human cost of people losing their jobs or careers.
A vacuum has been created, and I hope that that means that other platforms open up to those people and to the sport. We're already hearing about streaming platforms coordinating with boxing promoters. The promoters have contractual obligations to deliver fights for their fighters, and they're not going to wait for multiple lawsuits, they're going to figure out what's next. It's down to those promoters to adapt first.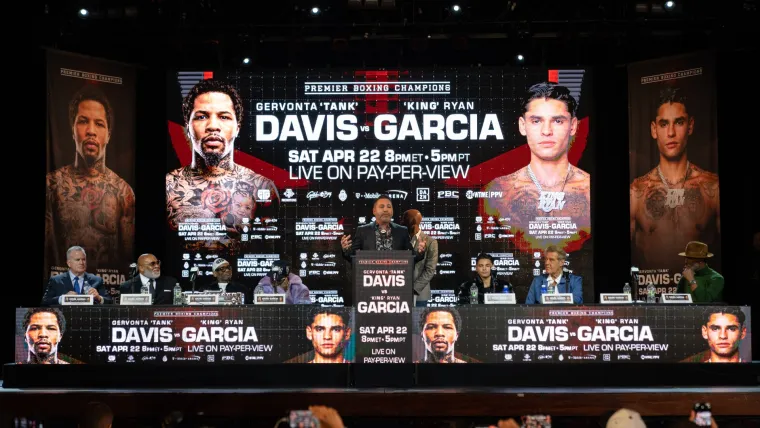 If the three biggest stars of the previous era were Oscar De La Hoya, Floyd Mayweather and Manny Pacquiao, their profiles were built on HBO and Showtime and their storytelling programming. Those three generated incredible wealth for themselves and those around them. But long-form programming is less appealing to mainstream audiences in 2023. Stars still need to built; a new way needs to be found to tell their stories.
One of my favourite sayings around boxing is "You've gotta have thick skin and a short memory". You have to keep moving. Boxing's never going to die – there might even be an opportunity here for boxing to grow even bigger.
Look at Ryan Garcia – he was famous and rich before becoming a champion, and largely because of his use of social media. His model was the opposite to the generation I was a part of. Devin Haney's another good example – he adapted Floyd Mayweather's model. Mayweather knew exactly how to enhance his profile, whether in a positive or negative context, and as the "Pretty Boy" was a dangerous fighter knocking out fighters at lower weights without making the huge money he did after turning heel as "Money" Mayweather. The Haneys have used a similar model adapted to 2023.
Teofimo Lopez springs to mind as a fighter with endless talent building his profile the old-school way – by being an excellent fighter fighting the best. Today's athletes are still figuring things out, but not everyone has Lopez's talent so using social media and shorter-form ways to build brands is working for those who can't use the model he is.
I have the full careers of both De La Hoya and "Sugar" Ray Leonard on DVD. I have the VHSs of Friday Night Fights. But today, there's so much access and content via the likes of Amazon Prime, Hulu, Peacock, ESPN+, DAZN and ProBox TV. It's already very different.
Peacock have recently linked up with the Britain-based BOXXER, which is very encouraging. The success of that link-up will be determined by the quality of their fights. BOXXER have potential stars, but no existing stars. If they put those potential stars in the right fights, and if Peacock – which is a growing network – can help the fans get to know those fighters, that will change.
Their first main event, until Dan Azeez suffered an injury, was going to be Joshua Buatsi-Azeez, which was a fight I was looking forward to. It was going to be two young fighters fighting each other. I spoke to Buatsi a couple of years ago and he made it clear he wanted the big fights – which is the right mentality, and the one the sport needs, for young fighters.
Another fight I really like is between Regis Prograis and Haney, who both came face to face for the first time this week. Haney couldn't take a backwards step after his biggest fight and win, against Vasyl Lomachenko, and him moving up in weight as the undisputed lightweight champion. He's going straight in with a fighter recognised for how dangerous he is – I like the way Haney takes chances. He's become one of those fighters who seeks big fights – the knocks for him early on were that he wasn't. I also don't necessarily agree that Prograis is in decline, even though he had an off-night when he beat Danielito Zorrilla in June. He'll bring his all to fighting Haney – but this far out from the fight, the style match-up strikes me as favouring Haney. His discipline is a huge asset; Prograis prefers opponents to stand in front of him and fight, and Haney isn't going to do that.
This year has been one of the best, in terms of the fights made, of the modern era. It might even have created the opportunity for those big fights to continue getting made.
A lot of us had been hearing whispers for a long time that Showtime Boxing was coming to an end, but it's delivered so many of those good fights and good pay-per-views, which I believe was done by design. By closing out so strongly, those involved can bring their package to another network and say "Look what we did in those 18 months – we can bring that to you".