Last weekend we saw Jaron "Boots" Ennis make his best statement so far as a professional fighter. He was exceptional.
Roiman Villa was coming to win, and having beaten Rashidi Ellis – a good fighter with great hand speed. Ennis is an exceptional fighter, so the question wasn't necessarily if he was going to win, but how.
If he'd blown Villa out, that also would have represented making a statement, but it would have been a less impressive one. Breaking him down, in such a seamless, professional fashion, meant him showing so much more – particularly his prowess, and athleticism.
We're seeing a new generation of fighter. High-level athletes with incredible reactions and foot speed capable of changing direction and of seeing things and anticipating their opponent.
I recently wrote about Jared Anderson – he's another. Boxing's entering a new phase led by fighters who can fight like Ennis and Anderson – that's how younger fighters are going to strive to be.
The type of athletes who'd normally be running backs in the NFL, or point guards in the NBA, are coming to boxing with the type of skills it normally takes a lifetime to acquire.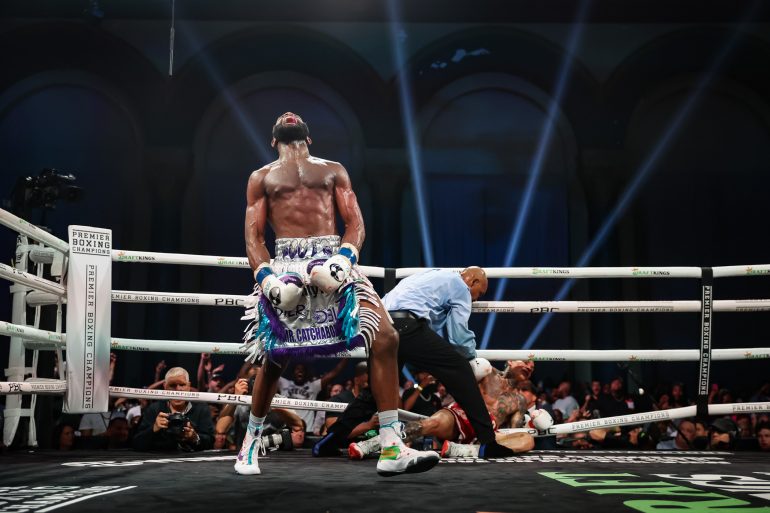 Ennis not only performed as he did, but did so against a durable, world-class opponent. To make winning look as easy as he did – to be better conditioned, stronger, faster and more powerful; he was better at everything – and to be as entertaining as he was to watch enhanced his appeal.
He's exciting to watch, as well as a fighter who looks the part physically, and is skilful and capable of producing knockouts. We might just be watching someone who's going to prove the best welterweight since Floyd Mayweather.
Ennis is a generation talent – and from a family of boxers, which has meant him living the sport his entire life. I don't believe Mayweather would have been good at football or basketball – maybe Ennis is the type of athlete who could be.
It's been suggested he's capable of competing with Terence Crawford and Errol Spence today. In the context of his physical talents, that might be true, but in the context of his knowledge of the sport, and of being in a big fight, it's not.
It's not just about physicality – he's not yet a world champion. A world champion should be proven in making adjustments in the moment. We haven't yet seen him do that; we haven't yet seen him be forced to do that. Crawford and Spence are some of the best fighters of their generation, and a different challenge entirely.
The same evening Ennis defeated Villa, Vergil Ortiz had been scheduled to fight Eimantas Stanionis but was forced to withdraw when, according to his promoter Oscar De La Hoya, he "required immediate hospitalisation". The most important thing, firstly, is that he makes a full recovery.
If it was a recurrence of rhabdomyolysis, as has been suggested, then his career may be at threat. I know him personally, and admire him, and can't help but think of him and his family. My nephew has struggled with the same condition – and it's scary.
Rhabdomyolysis can also be exacerbated by dehydration, so I've hoped that that's what happened last week, when Ortiz would have been making weight. He's very, very big for a welterweight, and might be outgrowing 147lbs. It's more important that he's healthy, and that his health isn't at risk, but I hope we eventually see him at 154lbs.
This week we've seen Oleksandr Usyk and Daniel Dubois come face to face, ahead of their fight in Poland on August 26. Usyk's incredibly talented and knows how to fight big opponents – he was undersized at cruiserweight, let alone at heavyweight – but when he fights anyone who isn't another of the world's leading heavyweights it worries me, because of the risk of him losing and then not fighting Tyson Fury or Deontay Wilder. Dubois is a solid contender, and the nature of heavyweight boxing – and the combination of his size and power – makes him dangerous.
I hate pound-for-pound lists. They're theatrical and argumentative for the sake of it, but if I had to make one Usyk – alongside Crawford, Spence and Naoya Inoue – would be towards the top of mine, because of what he's already achieved and because he's such an enigma for his opponents.
I hate the fact that Tyson Fury is fighting Francis Ngannou, a professional mixed martial artist, even more. It's a stupid fight and a waste of everyone's time. If Fury just wants to chase money there's no reason he shouldn't relinquish the WBC heavyweight title, retire, and earn it in other sports.
Mayweather's very welcome to earn the money he has been in exhibitions, because he's not affecting young, hungry fighters who want to be champions. Fury has rivals who want his title – who dream of being champion, like he once did – and he's holding their careers up. Fury, and the WBC, are equally guilty.
He beats every other active heavyweight, so it'd be a real shame if he doesn't earn the undisputed title. He could fight Usyk tomorrow and then go and fight Ngannou. Instead, by taking this fight next, he's signalling that he doesn't want real fights anymore.