Canelo Next Fight is September 30th, 2023 beginning at 10:00 Pm Est at T-Mobile Arena In Las Vegas, against Jermell Charlo, the undefeated WBC middleweight champion. This highly-anticipated return to the boxing ring is confirmed as he signs a new deal with Premier Boxing Champions (PBC) for a September Face-off.
Don't Miss The Action, Subscribe Now
Sign Up
Canelo Alvarez Boxing Record and Titles
Canelo Alvarez's boxing journey is a tale of triumph and perseverance. With an awe-inspiring record of 59 wins, 2 draws, and 2 losses, he has secured multiple world titles across different weight classes. As the reigning WBA, WBC, IBF, and WBO super-middleweight champion, Canelo Record stands as an epitome of excellence in the division. His versatility, tenacity, and strategic prowess have cemented his place among the sport's legendary champions.
Boxing's biggest stage is set for #CaneloCharlo 🏟️ @canelo vs. @TwinCharlo 9.30 on SHO PPV. pic.twitter.com/Uridxw0HOa

— SHOWTIME Boxing (@ShowtimeBoxing) August 21, 2023
Throughout his illustrious career, Canelo Alvarez has demonstrated an unparalleled level of skill and determination, earning him recognition as one of the greatest pound-for-pound boxers in the world. His ascent to becoming a four-belt champion is a testament to his unwavering commitment to the sport and his desire to conquer challenges at every turn. As he prepares for his next fight against Jermell Charlo, Canelo's impressive boxing record and his undisputed super-middleweight titles make him a formidable force in the division.
Canelo Alvarez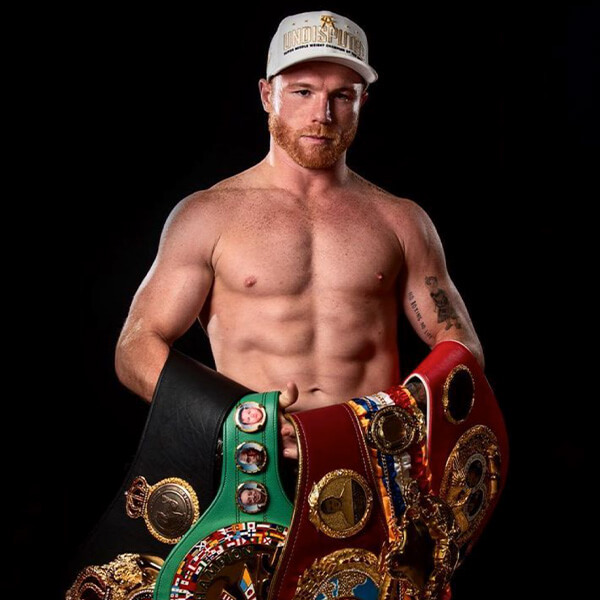 59

win

2

loss

2

draw

39 KOs
0 KOs
division
Super Middleweight
Titles
IBF World Super Middle
WBA Super World Super Middle
WBC World Super Middle
WBO World Super Middle
birth name
Santos Saúl Álvarez Barragán
residence
Guadalajara, Jalisco, Mexico
birth place
Guadalajara, Jalisco, Mexico
promoter
Canelo Promotions
Who Will Canelo Fight Next? Jermell Charlo Boxing Record and Titles
Jermell Charlo, the undefeated WBC middleweight champion, brings his own impressive boxing record to the ring. Jermell Charlo touts a 35-1-1 record with 19 of those victories coming by the way of knockout; he has displayed exceptional skill and determination throughout his career. As a formidable champion in the middleweight division, Charlo's reign has left opponents in awe, making him a formidable challenger to Canelo Alvarez's undisputed status.
The countdown to the battle of UNDISPUTED CHAMPIONS begins now. Witness GREATNESS on September 30, live from [tag T-Mobile Arena] in Las Vegas, NV. Pre-sale tickets are available on Thursday, August 10, at 10am PT (Use code: CHARLO) pic.twitter.com/5bO0QaroR0

— JERMELL CHARLO (@TwinCharlo) August 10, 2023
Jermell Charlo record and journey to becoming an undisputed champion has been characterized by relentless determination and a drive for excellence. Holding the WBC middleweight title, he has successfully defended his crown against numerous formidable opponents. His impressive knockout power and technical prowess have garnered him a devoted fan base and established him as a force to be reckoned with in the boxing world.
Canelo Alvarez Fight Style
Canelo Alvarez's fighting style exemplifies a harmonious blend of finesse and power. With precision counter-punching and devastating body shots, he can dismantle opponents with surgical precision. His head movement, footwork, and defensive acumen add layers of complexity to his craft, making him a formidable force within the squared circle. Canelo's adaptability enables him to tailor his strategy, capitalizing on adversaries' weaknesses, a hallmark of a true boxing virtuoso.
Known for his relentless pursuit of victory and his ability to adapt to any opponent, Canelo Alvarez employs a versatile fight style that allows him to excel in various weight classes. He combines technical brilliance with raw power, making him a formidable and unpredictable opponent for any challenger. As he prepares for his next fight against Jermell Charlo, fans and analysts eagerly anticipate the strategic brilliance and precision of Canelo's fight style, which has brought him unparalleled success in the ring.
Jermell Charlo Fight Style
Across the ring stands Jermell Charlo, renowned for his explosive punching power and relentless aggression. His sharp footwork and counter-punching ability complement his aggressive style, rendering him a formidable challenge to any middleweight contender. Charlo's unwavering determination to claim victory has propelled him to become an undefeated world champion, and he's determined to showcase his fight style against Canelo Alvarez.
Jermell Charlo's fight style is characterized by his raw power and unyielding determination to dominate opponents. He possesses a formidable knockout record, a testament to his punching power and ability to end fights with a single blow. Charlo's aggression and calculated approach in the ring make him a formidable opponent, capable of dismantling opponents with relentless precision. As he prepares to face Canelo Alvarez, fans eagerly await to witness the explosive power and tenacity that define Charlo's fight style.
Canelo Next Fight vs Jermell Charlo: Expectations, Odds, and Bets
As the date draws near, expectations soar, and betting odds fluctuate. The boxing community and fans worldwide eagerly anticipate this high-stakes battle between two champions. Analysts and pundits predict a thrilling contest, with each fighter's unique style adding intrigue to the matchup. Bets are being placed, and fans brace themselves for an unforgettable night of live boxing brilliance.
The anticipation surrounding Canelo next fight against Jermell Charlo is palpable. With both fighters boasting impressive records and being undisputed champions in their respective divisions, the bout has captured the attention of boxing enthusiasts and casual fans alike. The clash of styles, Canelo's precision and counter-punching against Charlo's explosive power, promises to deliver a captivating showdown.
Bookmakers have their hands full as fans place their bets on the outcome of this epic encounter. Odds fluctuate as fans passionately back their favorite fighter. While Canelo Alvarez enters the ring as the favorite, Jermell Charlo's knockout power makes him a formidable underdog. Betting markets are abuzz with activity as punters weigh the odds and place their bets on what they believe will be the outcome of this historic fight.
About Canelo Next Fight Venue: T-Mobile Arena
Located on the famous Las Vegas Strip, the T-Mobile Arena is a state-of-the-art entertainment venue that has become synonymous with hosting some of the most spectacular events in the world of sports and entertainment. Opened in 2016, the arena has quickly established itself as one of the premier destinations for boxing enthusiasts and sports fans.
As the fight date draws closer, the T-Mobile Arena is preparing to welcome fans from around the world. The grandeur of this venue, known for its history of hosting some of boxing's greatest fights, adds an extra layer of excitement to the upcoming bout. The atmosphere inside the arena is expected to be electric, with fans roaring in support of their favorite fighter, creating an unforgettable spectacle that resonates far beyond the ring.
Boxing's biggest stage is set for #CaneloCharlo 🏟️ @canelo vs. @TwinCharlo 9.30 on SHO PPV. pic.twitter.com/Uridxw0HOa

— SHOWTIME Boxing (@ShowtimeBoxing) August 21, 2023
Don't Miss The Action, Subscribe Now
Sign Up
Frequently Asked Questions about Canelo Alvarez:
When is Canelo Next Fight?
A: Canelo Alvarez Next Fight on September 30th, 2023 against Jermell Charlo, beginning at 10:00 Pm Est at T-Mobile Arena in Las Vegas.
Q: What has been Canelo's recent performance in the boxing ring?
A: After his victorious showdown against Caleb Plant in 2021, Canelo faced a setback in his bid to win the WBA light heavyweight title against Dmitry Bivol in May 2022. However, he made a triumphant return with impressive wins over Gennadiy Golovkin and John Ryder, reaffirming his status as one of the sport's most dominant forces.
Q: What is the level of anticipation for Canelo's return to PBC?
A: Canelo Alvarez's return to PBC has generated unprecedented global excitement and fervor among boxing enthusiasts. With potential matchups against elite contenders, the anticipation surrounding his next fight is at an all-time high.
🥊 Don't miss this or any other upcoming boxing fight Check your boxing schedule TV here and Subscribe